ScamBusters
Revealing Mail Order Bride Scam Sites
Dating sites are supposed to be platforms that connect single people with similar views and interests looking for love. However, many users have serious doubts about online dating. Ask ten people what they think of online dating sites: we bet at least 5 of them say that most websites are scams, profiles are fake, and all messages sent to you are written by frauds. Nonetheless, there are also people who protect sites arguing that a lot of happy spouses found each other through dating platforms and that singles have nothing to worry about.
None of them are right, and none are wrong. Dating sites should not be accused of all sort of evil, but some of them really are scams. To learn how to separate the wheat from the chaff, let's consider the examples of two dating sites: RussianFlirting and BeHappy2day.
RussianFlirting.com – The best place to find love or just another scam?
RussianFlirting claims to be an international dating site created to help single men from all over the world meet single ladies from Russia and other countries and vice versa. It is not unique in the services it provides: the members can use the quick and advanced search, send cute virtual gifts, and invite each other to video and text chats. The interface and design are fairly standard. In general, it gives the impression of a legitimate free dating website where a single man can meet the love of his life. But is it?
The site is entirely free – Generosity or absolute fraud?
The only thing that distinguishes RussianFlirting from lots of similar dating sites is the price. It claims to be entirely free, but you'd better prepare yourself for a surprise. And it's not a really pleasant one. The administration claims that they offer 100% free service, don't ask the members to provide the financial info, and don't encourage them to pay for a premium membership.

But after we tried to send someone a gift, we found out that there are 7 coins on our balance. Coins are the equivalent of the credits frequently used as virtual currency on lots of pay-to-use dating sites.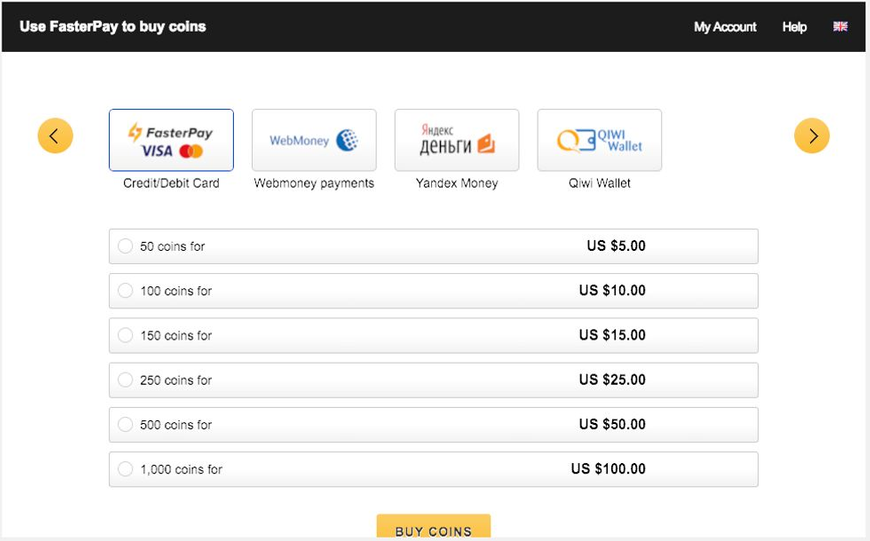 The site even offers a few payment methods, including Credit card, Webmoney, Yandex Money, and Qiwi Wallet. A user also can upgrade his or her account and even earn coins by sharing the information about the site on one of the social networks.
No need to say that all claims are a lie. It does the exact opposite of what was promised to the clients.
Fake profiles
So the platform is not free. This is not a too big problem for users who want to get high-quality services. But what about the profiles? Spoilers: they are not real.
The first red flag is that they obviously lack the details. The self-descriptions are very short, and the info they contain is absolutely useless.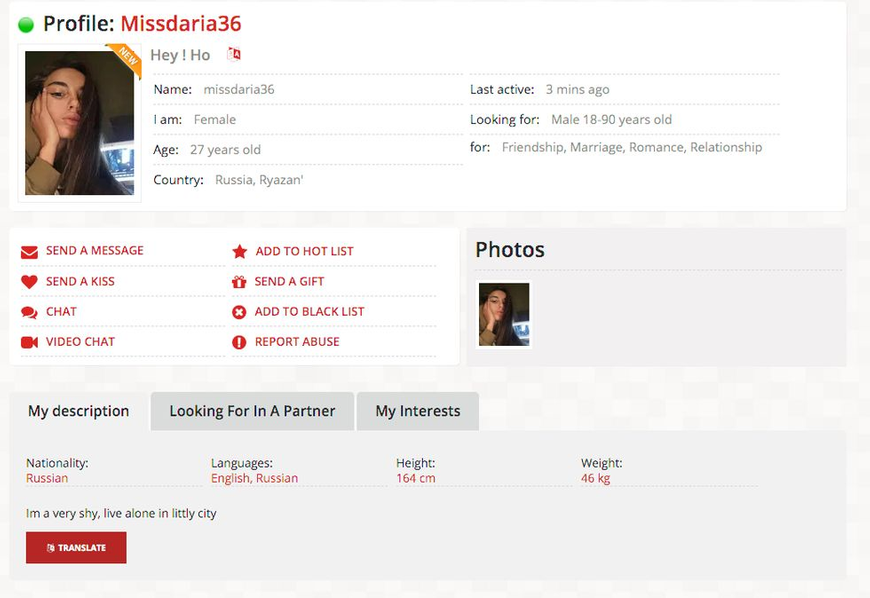 The second one is that the first attempt to check the photos (which are mostly blurry selfies) failed. Well, it is a clearly predictable result. A photo posted by Miss Daria on RussianFlirting turned out to be the photo posted by Miss Julia on Instagram.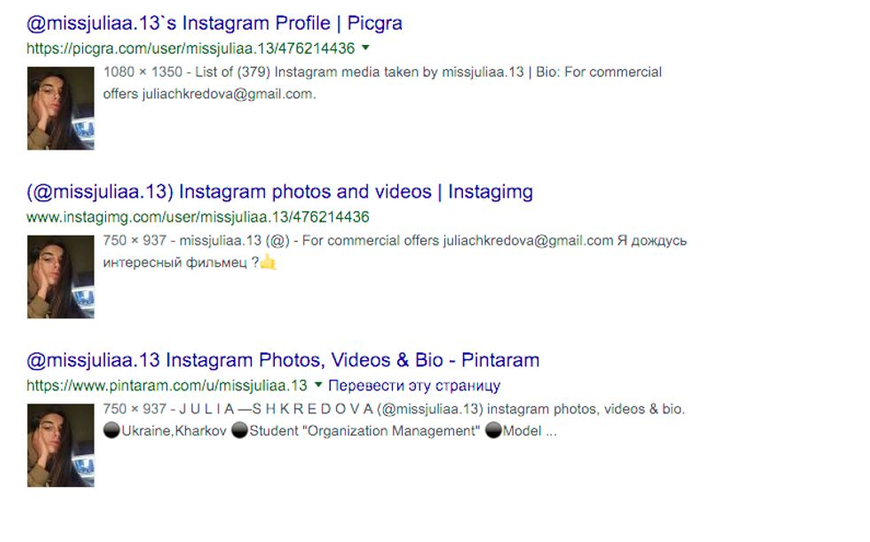 Another suspicious thing is that a hot 27-year-old brunette is looking for a man between the ages of 18 and 90. After all, who cares if a guy is 9 years younger or 60 years older? Age is just a number.
Exchanging messages
It has to be noted, however, that all members can send text messages for free. There is only one little problem: no one responds. You can't also see if the recipient received and read a message or a gift.

The verdict on RussianFlirting
The site seems very suspicious. It is likely to be a scam, so please, don't join the website and especially don't buy coins before you make sure that the profile is real (just google some photos). We strongly don't recommend to provide the platform with your personal and financial info, at least until you get the response from any member. If someone sends you a message, make sure that you aren't talking to bot.
BeHappy2Day – The dating site which claims to be the best
At first glance, the website seems to be high quality. Nice design and user-friendly interface, as well as reviews of the members on the main page, perform their functions perfectly. A visitor thinks that this is a top legitimate dating website. Moreover, it connects single men with ladies from all over the world, in particular from Eastern Europe, Asia, and South America. Is it really good as it seems? Let's find out.

Number 1 dating site?
BeHappy2Day.com is a very successful and popular dating site. What's more, it's a 1st class international website. The question is who the experts who have recognized it as the best platform are, and we'll hardly get an answer. Well, we cannot blame anyone for advertising, so let's join the site.
No verification needed
Signing up takes literally a second. A member doesn't even need to confirm his or her email address – user name is more than enough to join BeHappy2Day. What does it mean? You can enter any email address you want, create as many profiles as you want, and do whatever you want. So how can the platform protect you from scam and spam? Unfortunately, there are a lot of problems associated with such an approach.
Forbes likes BeHappy2Day, and so should you
If Forbes is writing about a dating site, this is a top dating site. That's what we thought when saw an article about BeHappy2Day.com in the magazine.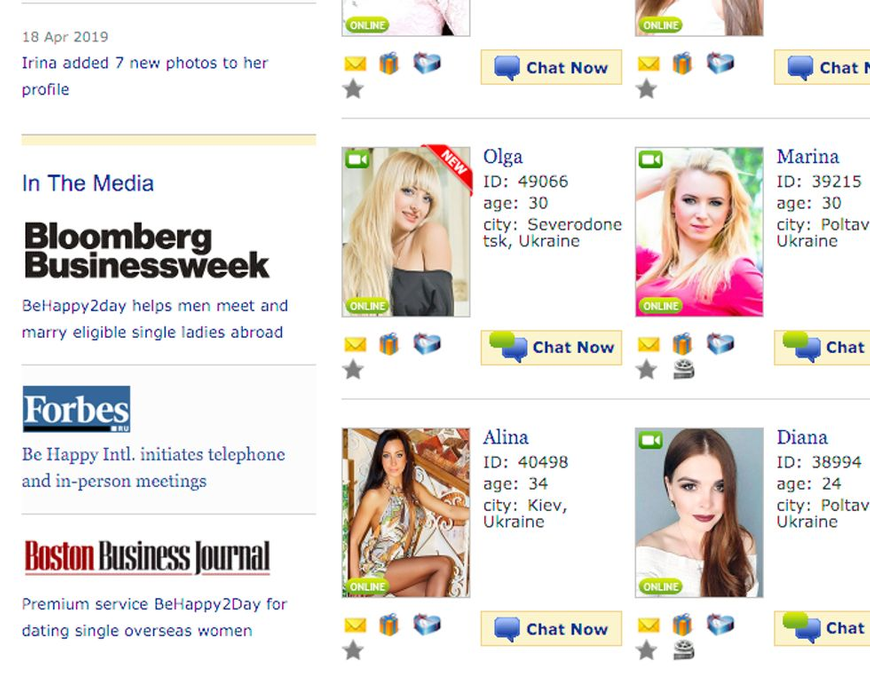 Further research (frankly, we just took a closer look at the page), however, revealed that this is article was published by PR Newswire. It's a pretty good distributor of press releases, but it's definitely not Forbes. Some may say that false advertising is not a crime. We're not going to argue this, so let's move on.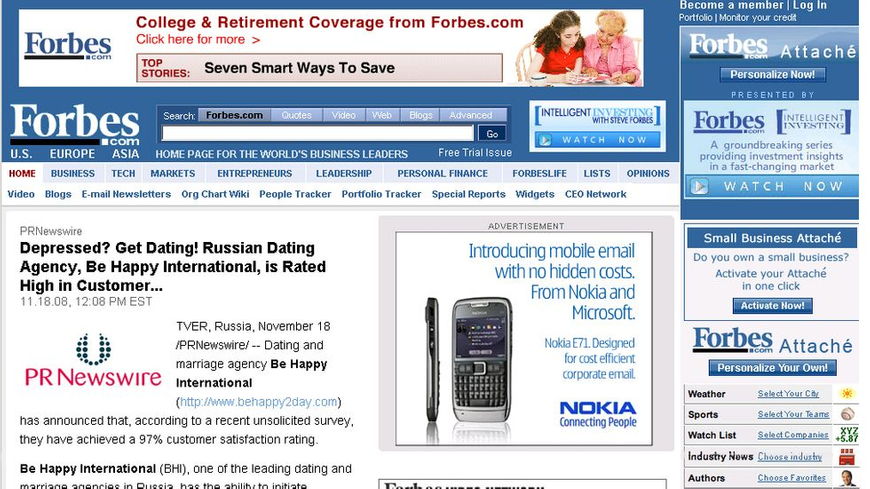 Further research (frankly, we just took a closer look at the page), however, revealed that this is article was published by PR Newswire. It's a pretty good distributor of press releases, but it's definitely not Forbes. Some may say that false advertising is not a crime. We're not going to argue this, so let's move on.
Profiles and communication
At least the photos on this site are real. We mean that they are the photos of real people, but not the members of the website. The simple check has shown that these are mostly stock pictures available to every user of the Internet. Consequently, profiles are fake.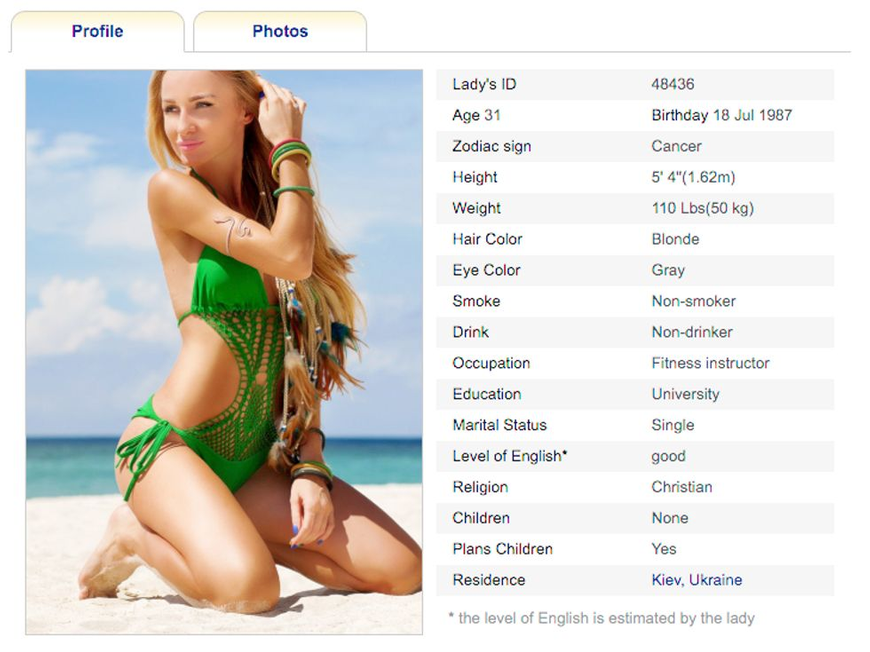 The bad news is also that you can't send a message before you buy some credits. In other words, the platform offers members to pay for the services they did not even try. The prices are pretty high: you need to pay more than $200 for 500 credits.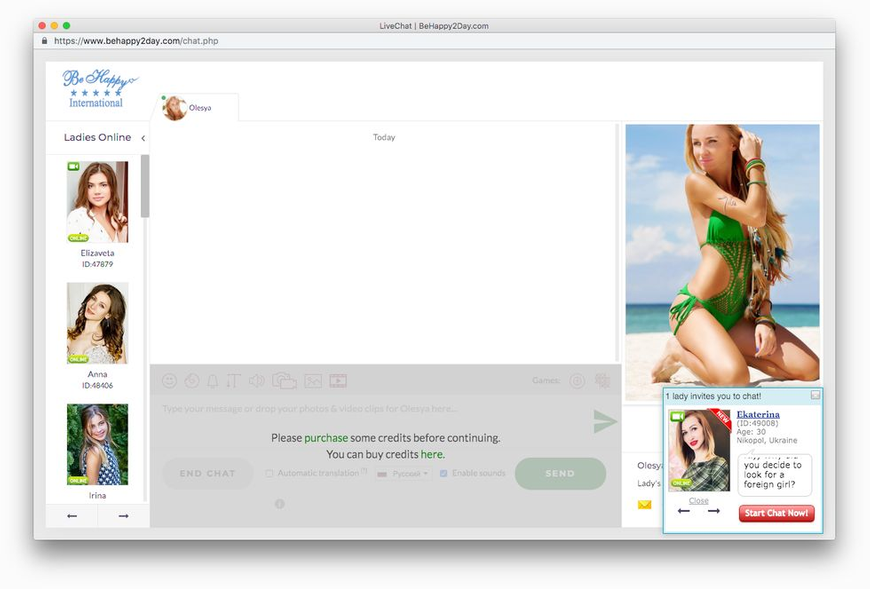 Will you marry me on BeHappy2Day.com?
Do you like cool, unusual features? We do! That's why we were pretty interested in a ceremony offered by this dating site. If you really like someone on BeHappy2Day, you can marry him or her from your own home. All you need to do is to write the virtual proposal, wait until she says 'yes' and pay 1100 credits for the ceremony. It is a nice idea except for one thing. 1100 credits are equivalent to 400$! Just ask your friend to arrange such a ceremony on Skype – it will be much cheaper.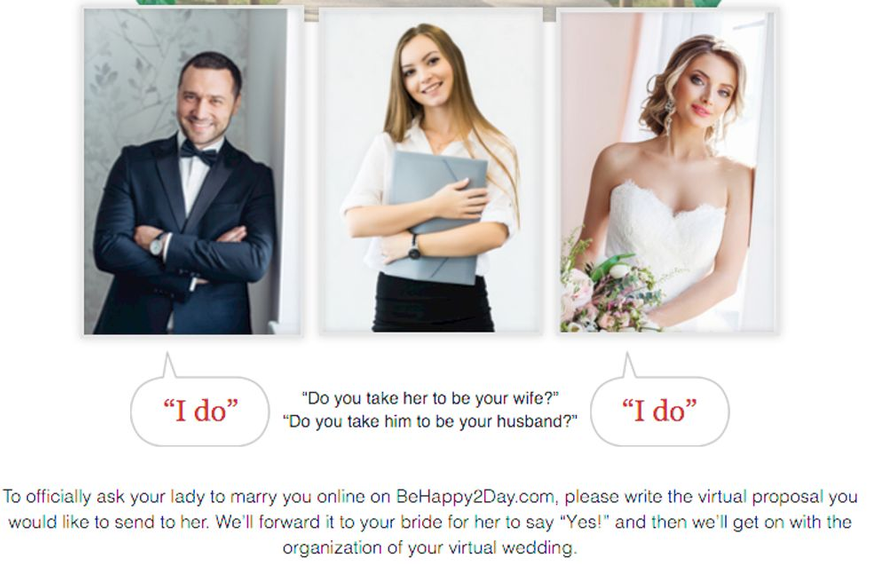 The verdict on BeHappy2Day
To say that BeHappy2Day.com is a very suspicious site is a huge understatement. Fake ads, fake people, high prices, all of these things should stop people from joining it.
Warning signs – How to avoid online dating scams?
Both sites we analyzed are the striking examples of how scams websites work. To protect yourself and avoid scams and money loss, pay attention to each of these red flags:
The absence of verification procedure is one of the warning signs – nothing protects members from scams
Always check the photos of members in Google – who needs a site with lots of fake profiles?
If a woman desperately wants to win your trust, calls you a boyfriend and tells that she fell with you – run, ladies don't usually act like that. There is a big chance that she (or he) is just trying to make you like her
Frauds are usually aimed at escalating feelings. Their goal is to make you fall with them and then make you leave the platform. They offer to start chatting on Skype, WhatsApp, Facebook, and other apps and networks.
Do not think that if someone who sends you sweet messages in the morning and even gifts and then asks for financial help or financial information really loves you. Small presents prove nothing. This is just another part of a scam strategy
Nothing is sacred to them. Frauds can tell you about various emergencies. For instance, any of them can ask you for help because a 5-year daughter went to the hospital or because a mom is dying. Never believe this. Besides, after you refuse to send money or share your bank information, a fraud's attitude to you will change dramatically. No money, no love.