We Don't recommend Mingle2 ,
Try Better...
The two owners of Mingle2.com wanted this site to be a cozy virtual place to find a perfect match, but this platform has grown in a huge website with millions of profiles. The communication is completely free on Mingle 2, so you can spend only your time searching for your wonderful partner.
Some of the Mingle2 reviews are positive, some of them contain a lot of complaints. We have decided to consider this site by ourselves to estimate its work, services, and mobile app.
Pros
Free unlimited communication
30-seconds registration
Plenty of users
MutualMatch service
Intuitive interface
Plenty of users
Forums
Cons
No verification of profiles and photos
Only PayPal is available as payment method
Registration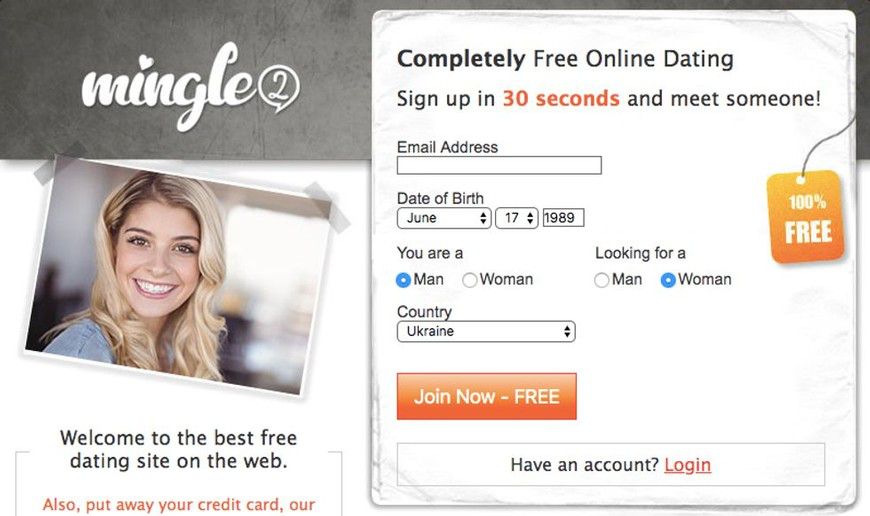 Registration on Mingle2 is free and will take a few minutes – or even seconds. Forget about buying pigs in a poke and spending hours to answering 500 questions. On this platform, you will become a member if you take the following steps:
Enter your email address;
Choose the date of birth;
Choose your gender and the gender of your perfect date;
Pick the country you live in;
Enter zip code.
After these simple steps you will be a fully-fledged member of Mingle2 and will have the possibility to enjoy the services of this platform every day. Moreover, you will get your first matches immediately after the registration, so start using those services instantly!
Make your profile descriptive
Would you talk with someone, having no idea of what kind of person he/she is? Well, for someone mystery is attractive, but the majority of people who come to online dating sites want to have a bit easier way to make contact. Sending a message to an owner of an empty profile is like walking to that beautiful lady in black dress at the bar. Who knows, maybe she is married? Maybe she will not like you? Not every person can be that bold and brave. If you want to meet your perfect match as soon as possible, make the path to you short and easy to find – by filling out your profile completely.
Making contact
Users can send messages to each other. It is the only way to communicate privately available on Mingle 2, and for someone, it may be a negative feature. Yet, the number of messages you can send and the number of people you can contact are unlimited. So, you can talk to anyone you want and how long you want. Maybe, it is the best feature of mingle2.com; reviews tell about it the most frequently, because people usually use the paid dating services and on this website, they can do anything for free.
Communication at Mingle2.com
You should know that there is a specific communication limitation on this site. If the message you received get no reply within 30 days, it will be deleted from your Mingle2 mail. It is a protection of your personal space from spammers or advertisers. And, there is a daily limit of making the first contacts.
You can enter chat rooms created by the administration of the site: Meet Local, New Users Say Hi, Hangout Chat, Asian Chat, World Chat are ready to be discovered!
If you like to attract the attention of people, flirting with them or giving them a possibility to send nudges, kisses, winks, hugs, or kicks in the butt. The latter is a bit rude and is used very rare, actually. But, it will tell someone to wake up and have a look at the person who kicked him/her! Be careful with this feature, as the majority of people do not like such a way of breaking the ice.
Profiles
On Mingle2 you can fill out your profile with such information:
Height;
Marital status;
Body type;
Are you looking for marriage/dating/relationships/active partner/intimate encounter/friendship;
Do you have children;
Do you want children;
Do you smoke or drink;
Your religion and so on.
On this platform you can give a bit less information about yourself than on similar platforms. It is a positive and negative feature simultaneously: you can spend less time filling your profile, and your personal page may be less descriptive. There is no possibility to fill special boxes with creative texts, but if you do not like to write them, you may like Mingle2 with their profiles structure.
Quantity of profiles
There are millions of active users, so you will never get bored or feel lonely at Mingle2. Use good Search tool with dozens of filters and find your destiny among plenty of members of the site!
Matchmaking
You will see your perfect matches on your profile. You can either contact them or search for the perfect candidates by yourself, changing filters as you wish.
Only the completed profiles will be shown on that list, so you can be sure that you will see at least a basic information with a photo of a user, not a blank page.
Mobile App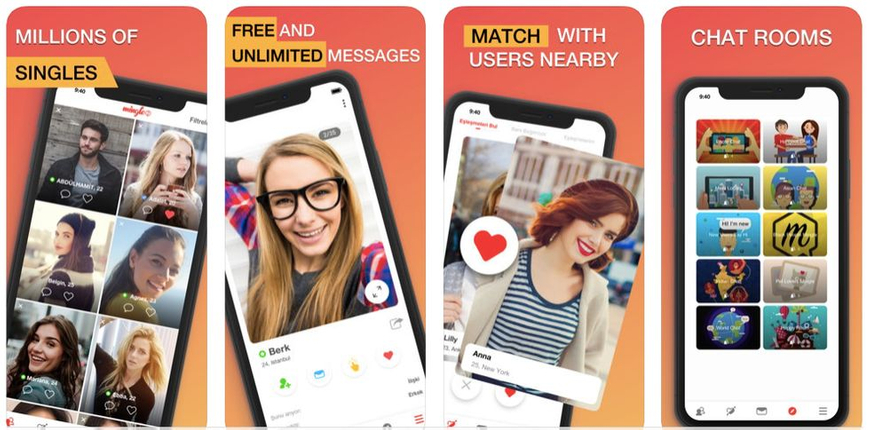 Some people suppose a mobile application to be a vitally important thing. It allows people to communicate even at work, at the park, at a coffee shop – literally everywhere. If you would love to have the possibility to have your contacts at hand, you should choose a dating platform having an app.
Luckily, Mingle2 has one! You can purchase services there, communicate using all the ways to make contact and feel comfortable, just like if you used the browser version. The design of Mingle2 mobile application is similar to the site's one, so if you like the site's colors, you will like the app's ones too.
Additional services
Additional services
MutualMatch. This is a service a bit similar to Tinder. You cannot use it without a photo, as it is the main element of MutualMatch. Playing this game, you will see random photos of the other users, and they will see yours too. Below the photos, there are three buttons – Yes, No, Maybe. If you like someone and say Yes or Maybe to that user, he or she will see your photo once entering MutualMatch. You will get a notification if the user answered you back or refused to have a talk with you in future.
Forums. The forums are not the place to find your perfect match – they are created to express your opinion about the platform, its work, or your wishes about it. And, you can create new topics with questions and get the answers from the other users or from moderators.
Mingle 2 Cost and Prices
You can do everything essential on this dating platform for free:
Free services
Creating and filling profile
Send nudges ( kisses, hugs, winks etc.)
Send and receive messages
View the profiles and photos
Add people to the list "Favorites"
See who viewed your profile
Use MutualMatch
Fee based services
Notification that your messages are read;
Seeing your likes on MutualMatch;
Keeping messages forever (in free version messages will be deleted after 30 days);
Browsing the profiles anonymously
Getting your profile to appear higher on Search
All the services mentioned above are everything that is needed to find a partner within several days or weeks, and do it for free. On similar dating platforms, there may be a demand to pay even for sending one message. Moreover, sometimes you cannot even see the full range of services or at least the design of the site before the registration that is paid! On Mingle2 you do not need to spend money on the essential things. Yet, you still can expand your possibilities by purchasing MinglePlus.
Anyone who wants to get a bit more than Basic account offers can buy MinglePlus. It is a paid membership that can be bought for several months – depending on how long you are planning to search for your perfect match.
Below you can find the list of prices for month packages.
As you can see, the more you buy, the less you pay, if look at the price for one month. If you understand that it is a pretty low chance that you will meet your destiny within a week, you can think about buying a 3-month package and enjoy the time on Mingle2 without being stressed that your membership will end after four weeks.
You can pay only via PayPal.
Contact Infromation
| | |
| --- | --- |
| Company: | NextC LLC |
| Address: | 350 Sansome Street, Suite 925 San Francisco, California 94105 United States |
| Phone-Hotline: | (415) 373-4066 |
| E-Mail: | [email protected] |